A Grant Park Music Festival Concert and Adeline's Sea Moose Yacht Cruise is another way to have a perfect and priceless weekday experience!
The Grant Park Music Festival is back!
With Millennium Park 2 miles from Burnham Harbor a Grant Park Music Festival concert with a cruise aboard Adeline's Sea Moose makes the perfect pairing for a priceless weekday experience in July and August.
Your cruise can start before or after the concert and our staff can help make arrangement for transportation between Millennium Park and Burnham Harbor.
Should you like to add a private yacht dining experience to your concert and cruise pairing, we can accommodate 2 to 12 seated, or a buffet style for up to 40.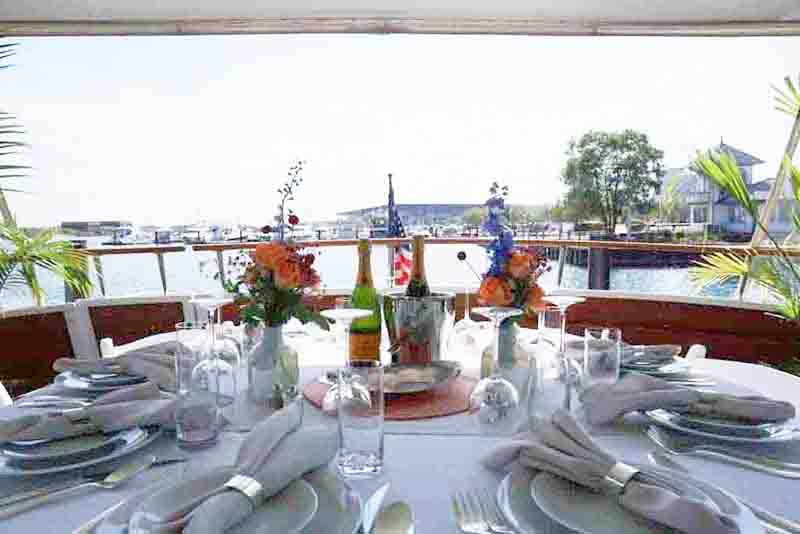 About the Grant Park Music Festival and Weekday Concerts.
Time Out Chicago says: For classical music lovers who enjoy taking in a show set beneath Chicago's skyline, the annual Grant Park Music Festival is perennial favorite summer event. This year's series of classical concerts kicks off just before the Fourth of July with a pair of Independence Day Salute concerts, featuring plenty of patriotic tunes. There are 15 more shows on the program this year, including performances of symphonies by Beethoven, Haydn and Brahms; an evening of classic Broadway arrangements and a set of classic Irish songs.
---
The following are Wednesday and Thursday concerts in July and August.
Please visit the Grant Park Music Festival's website for concert, venue and seat reservation information.
grantparkmusicfestival.com
July 7 – 6:30-8PM
William Tell Overture
FEATURING
Grant Park Orchestra
Carlos Kalmar, conductor
Joyce Yang, piano

July 14 – 6:30-8PM
Beethoven Symphony No. 1
FEATURING
Grant Park Orchestra and Chorus
Carlos Kalmar, conductor
Christopher Bell, chorus director
Katelyn Lee, soprano
Sarah Ponder, mezzo-soprano
Hoss Brock, tenor
Dan Richardson, bass-baritone
July 15 – 6:30-7:30PM
Quartet in the Parks
FEATURING
Allison Lovera, violin
Audrey Lee​​​​​​​, violin
Edwardo Rios, viola
Cole Randolph, cello
July 21 – 6:30-8PM
Bruckner E Minor Mass
FEATURING
Grant Park Orchestra and Chorus
Carlos Kalmar, conductor
Christopher Bell, chorus director
July 22 – 6:30-7:30PM
Quartet in the Parks
FEATURING
Allison Lovera, violin
Audrey Lee​​​​​​​, violin
Edwardo Rios, viola
Cole Randolph, cello
July 28 – 6:30-8PM
Prelude to the Afternoon of a Faun
FEATURING
Grant Park Orchestra
Carlos Kalmar, conductor
Anthony Trionfo, flute
July 29 – 6:30-7:30PM
Quartet in the Parks
FEATURING
Allison Lovera, violin
Audrey Lee​​​​​​​, violin
Edwardo Rios, viola
Cole Randolph, cello
August 4 – 6:30-8PM
From Ireland with Love
FEATURING
Grant Park Chorus
Christopher Bell, conductor
August 5 – 6:30-7:30PM
Quartet in the Parks
FEATURING
Allison Lovera, violin
Audrey Lee​​​​​​​, violin
Edwardo Rios, viola
Cole Randolph, cello
August 11 – 6:30-8PM
Family Night: Carnival of the Animals
FEATURING
Grant Park Orchestra
Norman Huynh, conductor
Ashley Kim, piano
Colin Song, piano
August 12 – 6:30-7:30PM
Quartet in the Parks
FEATURING
Allison Lovera, violin
Audrey Lee​​​​​​​, violin
Edwardo Rios, viola
Cole Randolph, cello
August 18 – 6:30-8PM
Schubert Mass in G Major
FEATURING
Grant Park Orchestra and Chorus
Carlos Kalmar, conductor
Christopher Bell, chorus director
Laura Anderson, soprano
Kaitlin Foley, soprano
Lindsey Adams, mezzo-soprano
John Concepcion, tenor
Joe Shadday, tenor
John Orduña, baritone
Ryan Cox, baritone
August 19 – 6:30-7:30PM
Quartet in the Parks
FEATURING
Allison Lovera, violin
Audrey Lee​​​​​​​, violin
Edwardo Rios, viola
Cole Randolph, cello