Your well appointed private luxury motor yacht, attentive crew, stunning skyline views and memorable experience awaits your arrival.

For the best in Chicago Private Yacht Rentals it's Adeline's Sea Moose a beautiful luxury yacht with an overall length of 68 ft and is a prized vintage jewel, with its masterful blend of power and grace it virtually glides you through the water.
Adeline's Sea Moose combines the traditional charm , comfort and discreet service of a bygone era, with the luxury, technology and facilities of the modern age.
She offers outstanding opportunities for relaxation, both on deck and within her interior. It is easy to understand the popularity of the delightful aft deck salon with wet bar, be it for open-air dining or merely for the possibility of solitude with a good book.
Above, the fly bridge offers a large seating or lounging area. Here guests can enjoy the sun, cool drinks, or gather for a sunset cocktail as a prelude to dinner.
When you long for nothing more but an escape from it all… Adeline's Sea Moose and her wonderful crew come to the rescue to meet all your needs.
Adeline's Business Advantage
Spirited entrepreneurs, enterprising business owners and savvy corporate executives agree chartering Adeline's Sea Moose works to their advantage in a number of ways from being an ideal hospitality venue to rewarding employees, showing clients added appreciation, cultivating new clients, and even expanding personal and professional networks…. Learn more
First Mate Services
We are all about and personal attention and pampering. Need help planning your event? Catering or Decorations? How about floral arrangements or Musical Entertainment? This is where we at Chicago Private Yacht Rentals shine! Tell us what you'd like and we'll make it happen. Read more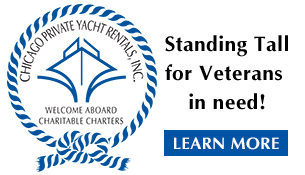 Dockside News and Announcements
[su_posts posts_per_page="3″ tax_term="43″ tax_operator="AND" order="desc"]