All Inclusive Yacht Charters and Vacations
A private historical tour along the Chicago River, a corporate team-building event, or a big celebration with friends and family, Adeline's Sea Moose is an exclusive, 68-foot yacht promising more excitement, breathtaking views, and quality service than your typical venue.
Our all inclusive yacht charters and exceptional tour packages can comfortably host up to 45 people and offer customizable catering options from our gourmet chefs, a premium top shelf bar with drinks whipped up from mixologists, and assistance from our professional captain and crew.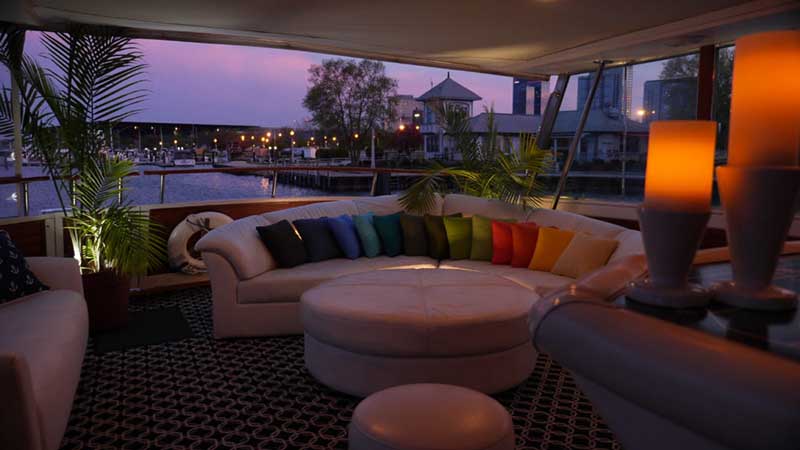 Overnight Yacht Rentals
End a fun-filled evening in the Windy City with a secluded overnight stay aboard the Adeline's Sea Moose, which docks in Burnham Harbor. This is a perfect getaway from the hustle and bustle of the city, and our all inclusive yacht vacations offers every amenity to ensure your comfort, from a specially crafted dinner menu to morning mimosas. There is not a better fun alternative to staying at a hotel than on a private yacht.
Our yacht comes equipped with a VIP Master Stateroom plus additional staterooms with extra sleeping space, a padded sun-deck area for sunbathing, a swim platform, a modern gallery kitchen, three flat screen TV sets, and plenty more to make your night memorable. Call us today with your inquiry, and we'll get you all set!
(224) 601-0220
[caldera_form id="CF58db33fbb722e"]
.
Brunch Cruise
You don't need to wait for a holiday or special occasion to enjoy some delicious mimosas and spectacular views of Lake Michigan with your best buds or gal pals. There is no day like today, so seize it aboard our luxurious four-story charter yacht for a fantastic and boozy brunch cruise complete with your favorite brunch bites.
From Belgian waffles topped with powdered sugar and strawberries to build-your-own omelettes and other tasty buffet-style options from our gourmet chefs, there is no limit for what our guests can indulge in. Our all inclusive yacht charters are the perfect retreat for sipping on mimosas aboard a resplendent yacht. Did we mention the views?
Private Architecture Tours
Beyond its deep-dish pizza, ubiquitous jazz music, and the world's finest museums, Chicago is also known for its illustrious architecture.
Spend a few hours taking in the sights on a guided tour from experts who truly know a city, in and out. Rather than a stuffy, overpacked Chicago city bus tour, take things to the next level with one of our guided architecture tours aboard the Adeline's Sea Moose.
Explore the city's unique architecture with our docents as you float along the calm, pristine river. Get your fill of beautiful views and fun facts about various sights from a professional staff as you sip on wine and indulge in bites.
Bottom Line
The activities and special occasions you can enjoy aboard our all inclusive yacht charters are endless, as are the number of amenities. You can sip, you can dine, you can relax, and you can play. Contact us today and let us help you plan your next getaway.
Our flexible and knowledgeable staff can craft an itinerary of sights, sounds, sips, and spreads so all you have to do is invite your favorite people for an unforgettable retrea