Truly The Best Of Chicago Adult Birthday Party Venues Is Right Here!
So if you're searching for the best adult birthday party locations in Chicago, best adult birthday party ideas in Chicago or even the best adult birthday party venue to host a 30th, 40th or 50th birthday party that's not the same old same old…Understand this… the Captain says; what happens aboard this Lake Michigan party boat stays on the boat… that's not just a Vegas thing anymore!!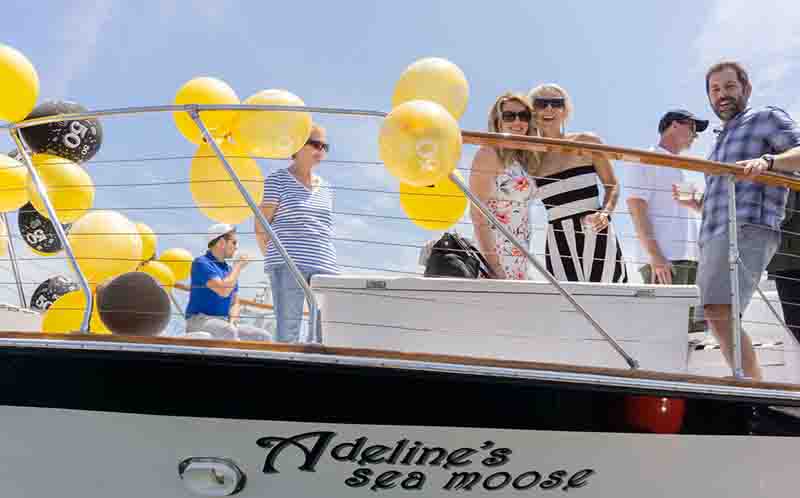 This is one of the best adult birthday party ideas you ever had!
You're about to experience one of the best adult Birthday party places or venues to have a birthday party in Chicago like none other… and best of all it's absolutely fun-filled!
This beautiful luxury Lake Michigan party boat rental was built for adult birthday parties in Chicago with an overall length of 68 ft, she's a prized vintage jewel, with its masterful blend of power and grace it virtually glides birthday parties thru the water along Chicago's lakefront
Slipping out of your shoes and on to her deck getting ready for this birthday party, you'll quickly realize there's going to be something uniquely different about this location for a birthday party in Chicago. With the greeting and handshake of the Captain to the warm smiles of the gracious crew, you'll immediately start to know you're in exceptional hands and headed for an incredibly fun party in Chicago with all your friends and family.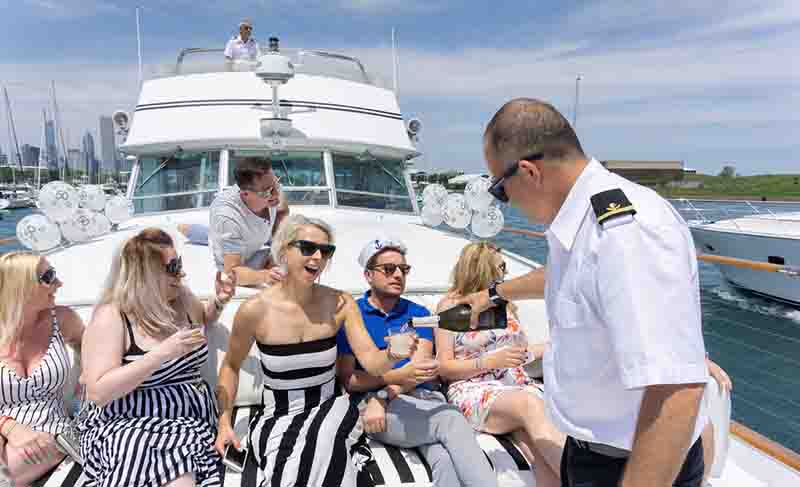 It's The Gold Standard Of Great Adult Birthday Party Ideas in Chicago!
Few if any fun adult birthday party ideas in Chicago can offer you the same combination of luxury and versatility that is provided by this yacht. She combines the traditional charm , comfort and discreet service of a bygone era, with the luxury, technology and facilities of the modern age. She offers outstanding adult party opportunities out of all top adult birthday party locations in Chicago for a great night out, both on deck and within her interior. It is easy to understand the popularity of the delightful aft deck salon with a wet bar and stereo system, be it for open-air dining or merely for you having one of the best party locations in Chicago. Above, the fly bridge offers a large seating or lounging area. Here guests can enjoy the sun, cool drinks, or gather for a sunset cocktail as a prelude to dinner before the nights party gets going
For Those Only Want The Best, Charter A Private Yacht For Your Next Birthday Party In Chicago
Now that you've found one of the best locations in Chicago for adult birthday parties you can stop looking for birthday party locations and just start Living Life to its Fullest and have a blast with all of your party going friends! Adeline's Sea Moose gives you the opportunity to invite all of your party buds onboard "your" very own 68 foot private floating playground for food, drink, merriment and what surely will be one of the best venue to have a birthday party in Chicago to experience your event. After which, for an additional fee, you and some of your family or friends can spend the night aboard this luxury yacht, and in the morning have breakfast with Bloody Mary's and a little sunshine to go along with it.
To inquire about this adult birthday party venue in Chicago please go to the availability page and tell us about your adult birthday party ideas you have in mind and see how we can help make it the party of a lifetime!