Adeline's Sea Moose offers much more than an exhilarating private luxury yachting experience. She and her crew help provide living life moments and lasting fond memories.
For the best Private Chicago Yacht Rental, it's Adeline's Sea Moose a beautiful luxury yacht with an overall length of 68 ft and is a prized vintage jewel, with its masterful blend of power and grace it virtually glides you through the water.
Adeline's Sea Moose combines the traditional charm, comfort and discreet service of a bygone era, with the luxury, technology, and facilities of the modern age.
She offers outstanding opportunities for relaxation, both on deck and within her interior. It is easy to understand the popularity of the delightful aft deck salon with wet bar, be it for open-air dining or merely for the possibility of solitude with a good book.
Above, the flybridge offers a large seating or lounging area. Here guests can enjoy the sun, cool drinks, or gather for a sunset cocktail as a prelude to dinner.
When you long for nothing more but an escape from it all… Adeline's Sea Moose and her wonderful crew come to the rescue to meet all your needs.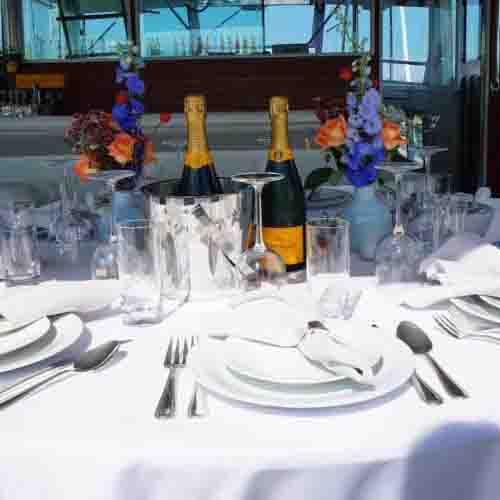 Ultimate Private Dining
Adeline's Sea Moose offers truly the best intimate private dining experience in Chicago. Whether it is a romantic evening for two or an occasion you want to be thoroughly pampered, Adeline's Sea Moose provides you with 68-feet of luxury, 4-levels of amenities and attentive crew all to yourself and significant others.
Not sharing the yacht, crew, space or views with strangers helps makes it a priceless and more memorable experience than other Chicago dining and yacht options.
Sit back and enjoy the show and skyline from your private, luxury viewing area.
The video is just a 28-second sampling of the memorable moments aboard Adeline's Sea Moose.
Save the Date Early Bookings
Navy Pier Fireworks every Wednesday
Memorial Day to the Labor Day
36th Annual Chicago Blues Festival
June 7-9
39th Annual Taste of Chicago
July 10-14
61st Annual Chicago Air and Water Show
August 17-18
Dates subject to availability
We had the most amazing time at an engagement party. The staff were amazing and more than accommodating! I would highly recommend hiring them for a fun time! Laura
Celebrated my friends birthday and it was a blast! We saw many places in the city and even saw the Navy Pier fireworks! Everyone was so friendly! I highly recommend! Nora
Our son had his surprise engagement cruise on Adeline. It was AMAZING from beginning to end. Capt. Brian and the crew made everything very special and gave us memories that will last a lifetime! Carl
I loved this boat!! The crew is so friendly and helpful. Amazing views of the city!!!! Kerry