Privacy, Pampering and the Best Views
Adeline's Sea Moose offers an excellent venue and her attentive crew exceptional service for every personal occasion and any type of corporate event.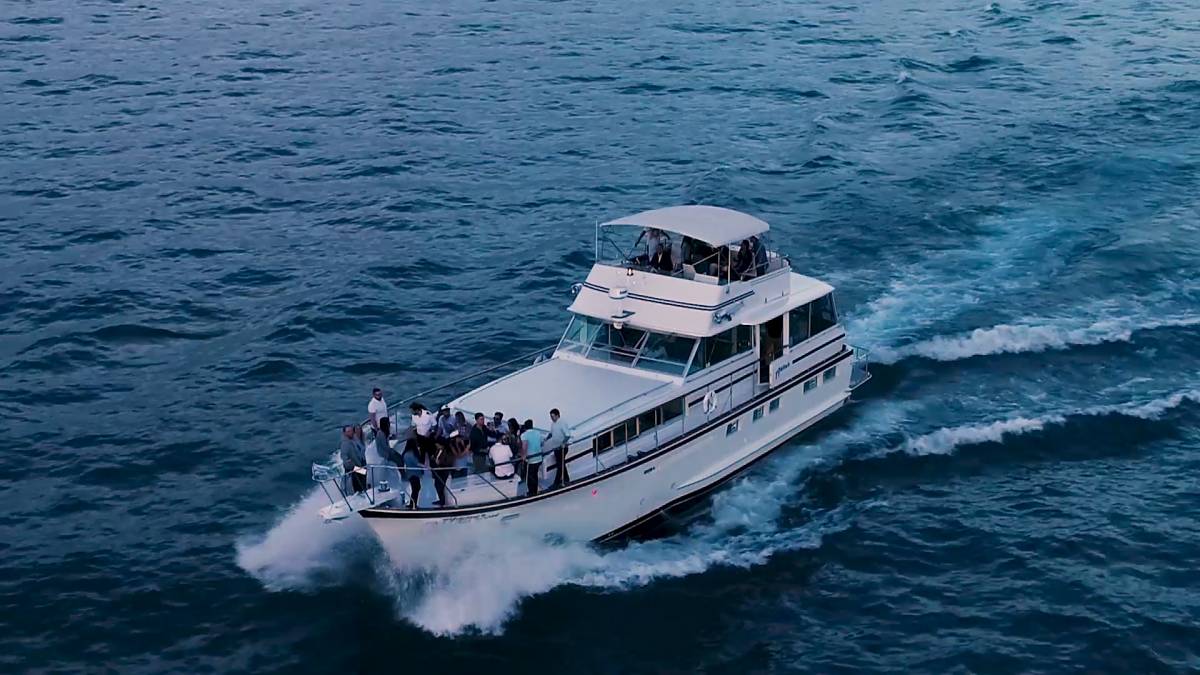 Private Yacht, Attentive Crew, Fantastic Views and Plenty of Fun
Adeline's Sea Moose and her crew provides you and your guest a priceless Chicago yachting experience.
A Priceless Pampering Chicago Private Yacht Experience
The privacy Adeline's Sea Moose offers and the pampering her crew provides are especially appealing to entertainment and sports celebrities.
Treating all Adeline's passengers with celebrity status, and with the best views of Chicago's fabulous skyline and fantastic lakefront events, she is an ideal Chicago yacht rental for any celebration, occasion or event, both personal and for business.
In addition to having the pleasure of serving a range of personal occasions and corporate events, Adeline's Sea Moose and her crew have been called upon to help make holidays, Chicago lakefront attractions and events, and tourist visits that much more special and memorable.
At 68 feet, Adeline's Sea Moose offers four well-appointed decks to entertain and enjoy with an assortment of amenities and comfortable accommodations.
Adeline's top deck, the flybridge, has large comfy bench seating, a low profile table, and unobstructed 360 viewing. Her main deck has a cozy salon area and wet bar with stools at her stern, and an expansive padded seating area and sundeck at the bow. The mid-deck has a modern galley, breakfast nook, dining and entertainment area. Three staterooms and two heads are on the bottom deck.
She also has a yacht wide sound system with CD player & I-pod, 3 flat-screen TVs with DVD players, dockside cable & Wi-FI and a swim platform.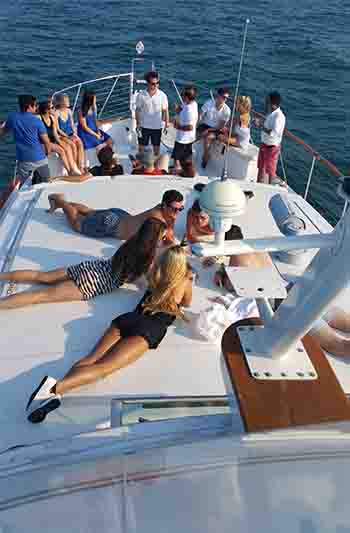 Morning, Afternoon, or Evening, Chicago Provides The Spectacular Backdrop, and Adeline's Sea Moose and Her Crew Delivers A Priceless Private Pampered Chicago Yachting Experience To Complement Any, Personal or Business, Celebration, Occasion or Event.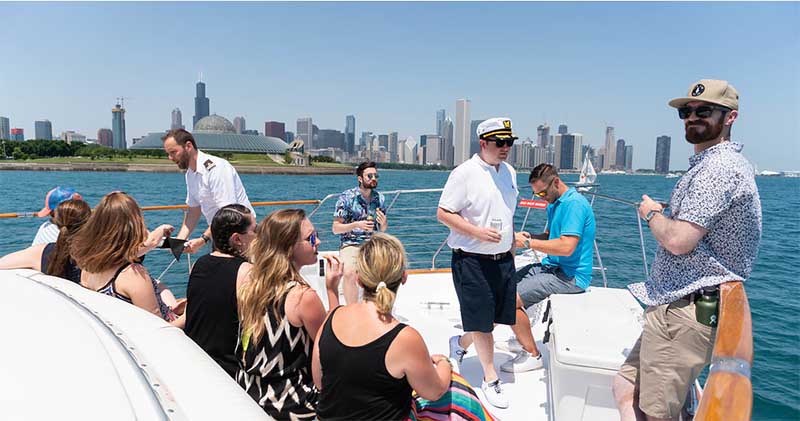 Adeline's Sea Moose professional, friendly crew members are all about the pampering.
It Would Be Our Pleasure To Be Of Service
For the best Private Chicago Yacht Rental, it's Adeline's Sea Moose a beautiful luxury yacht with an overall length of 68 ft and is a prized vintage jewel, with its masterful blend of power and grace it virtually glides you through the water.
Adeline's Sea Moose combines the traditional charm, comfort and discreet service of a bygone era, with the luxury, technology, and facilities of the modern age.
She offers outstanding opportunities for relaxation, both on deck and within her interior. It is easy to understand the popularity of the delightful aft deck salon with wet bar, be it for open-air dining or merely for the possibility of solitude with a good book.
Above, the flybridge offers a large seating or lounging area. Here guests can enjoy the sun, cool drinks, or gather for a sunset cocktail as a prelude to dinner.
Adeline's Sea Moose has everything you need to host the perfect luxury yacht party and she may not be the biggest yacht in Chicago, but Adeline's Sea Moose is the most exclusive one with a wonderful crew at your service.
Privacy, Pampering, and Spectacular Views!
All the Makings for a Memorable Moment Aboard Adeline's Sea Moose.