Private Dinner Cruise
From the moment you arrive, you'll quickly realize there's going to be something uniquely different about your private dinner party tonight. With the greeting and handshake of the Captain down to the warm smiles of the gracious crew, you'll immediately start to know you're in exceptional hands and headed for an incredible fun-filled time aboard your very own floating playground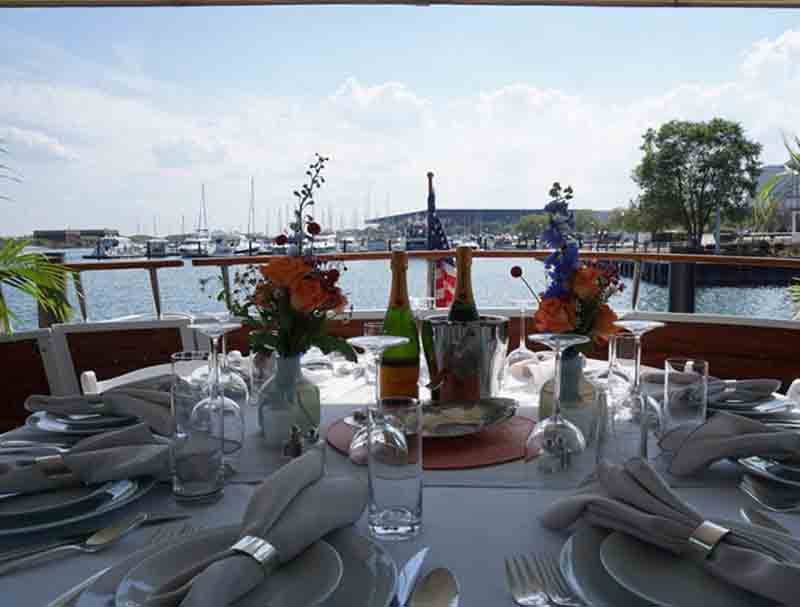 If you've been hunting high and low for a sophisticated and sexy yacht for a private Chicago dinner cruise, then you hit the jackpot with Adeline's Sea Moose for a private Chicago dinner cruise for two people or up to 40. Adeline's represents value in an elegant atmosphere of comfort, intimacy, romance, and decadence of a bygone era once forgotten. You can even say she breathes new life into private dinner boat cruises in Chicago!
Light years beyond the ordinary other yachts, boats, or dinner cruise boats on Navy Pier in Chicago, Adeline's Sea Moose is a vibrant, mystical experience of contemporary urban and chic sophistication. As evening blankets downtown, your favorite music, and the city lights intensify into a burst of color and sound casting an alluring spell. Adeline's private Chicago dinner parties will excite, refresh, and soothe in equal measure – a perfect private yacht rental for Chicago cocktail parties and events that exudes elegant simplicity with style!.
Reinventing the classic Chicago dinner cruise for two or up to 40 people.
Our Chicago Private yacht has brought the luxury dinner cruise business back to the City of Chicago in 2011 and became the vanguard of experiential dining.
With our Chicago private yacht, we continue to set the standard for private dinner cruises in Chicago, both in terms of excellence and experience, creating many enduring memories in the process. Enjoy one of our decadent sunset dinner cruises along Chicago's lakefront or, you can feel the intimacy and the privacy of cruising down the Chicago River under the huge soaring cliffs of some of the tallest buildings in the world!
A Historical Tour Guide and video drone or photography services available upon request