Private Yacht Dinner Cruise
From the moment you arrive, you'll quickly realize there's going to be something uniquely different about your private yacht dinner aboard Adeline's Sea Moose.
Greeted by an attentive Captain and crew, you'll immediately start to know you're in exceptional hands and headed for an incredible experience dining aboard your very own private yacht.
You can enjoy exclusive access to private chefs.
The private chefs onboard Adeline's Sea Moose offer a prestigious selection of 4-course, 5-course, and 6-course meals that are complemented by your high-end wine and champagne choices. From sushi to truffle pasta, we work with chefs to provide exotic, savory, and handcrafted cuisine in meticulous preparation. You are in charge of your dining wishes, and we coordinate it to perfection. This versatile approach to dining aboard our luxury 68-foot Chris Craft yacht with an attentive crew enables us to treat your and your guests like royalty.
Private Chicago Dinner Cruises
Adeline's Sea Moose private Chicago dinner cruises for two people or up to 45. Adeline's represents value in an elegant atmosphere of comfort, intimacy, romance, and decadence of a bygone era once forgotten.
Beyond the ordinary yachts, boats, or dinner cruise boats at Navy Pier in Chicago, Adeline's Sea Moose is a vibrant yachting experience of contemporary urban and chic sophistication. Adeline's private Chicago dinner parties will excite, refresh, and soothe in equal measure – a perfect private yacht rental for Chicago cocktail parties and events that exudes elegant simplicity with style!.
Dinner party cruises on a private yacht
Our Chicago dinner party cruises on a private yacht continue to trend in terms of excellence and experience, creating many enduring memories in the process.
Enjoy one of our decadent sunset dinner cruises along Chicago's lakefront or, you can feel the intimacy and the privacy of cruising down the Chicago River under the huge soaring cliffs of some of the tallest buildings in the world!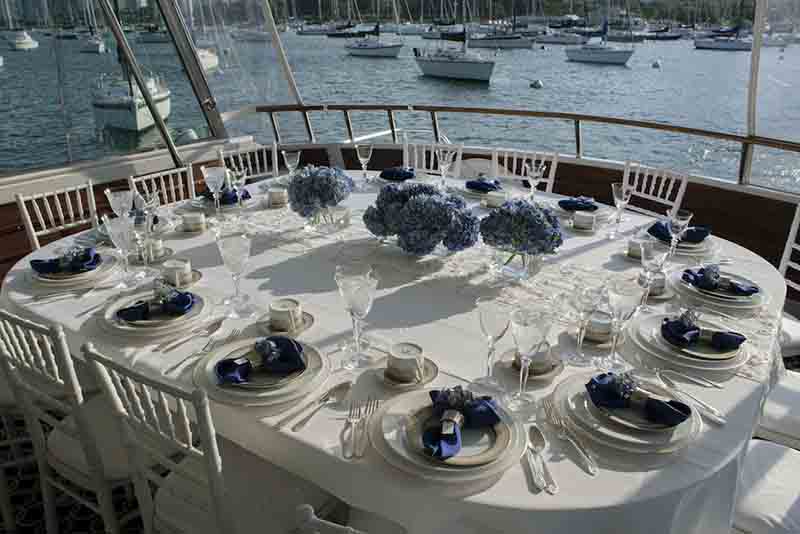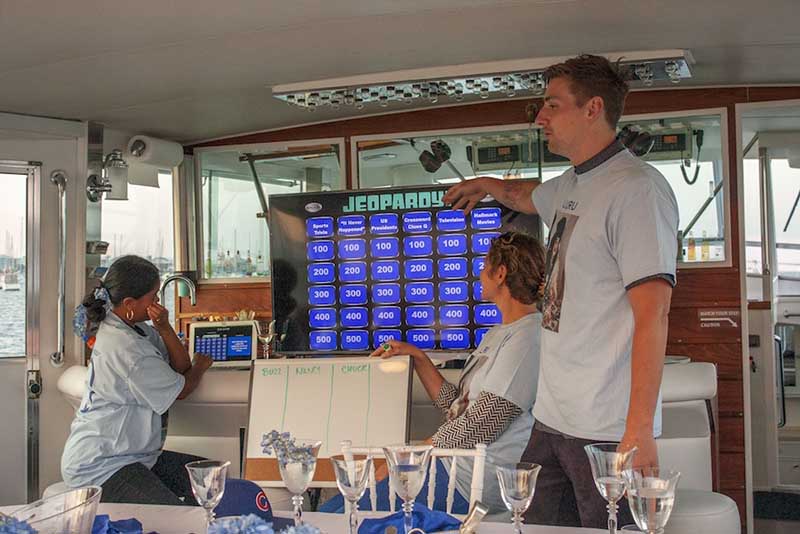 Fun & Games Dinner party charters
Chicago Private Yacht Rentals staff and Adeline's Sea Moose crew can accommodate practically any request, like providing everything needed for an enjoyable game of Jeopardy after a serving delicious dinner while cruising on Lake Michigan.