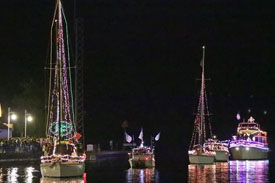 With a Chicago private yacht rental on Lake Michigan you and your guests can be a part of Venetian Night aboard Adeline's Sea Moose.
Venetian Night • August • Navy Pier • Free
A longtime favorite festival in Chicago, Venetian Night, makes a spectacular return at Navy Pier! Spend the day at Navy Pier before gathering lakeside on the Pier's South Dock to watch this FREE aquatic parade of illuminated boats followed by a dazzling fireworks show.
Fun fact: The Chicago Yachting Association (CYA) presented the first Venetian Night decorated boat parade in 1958 and it became an annual summer tradition held at Monroe Harbor, with fireworks provided by the City of Chicago eventually adding to the event.
Source: Choose Chicago