Private Architecture River & Shoreline Tours
Chicago Private Yacht Rentals arranges private Chicago River and Lakefront architecture tours with an experienced and knowledgeable docent aboard Adeline's Sea Moose that are perfect for anyone looking for a more exclusive and memorable experience.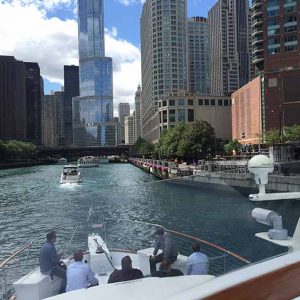 Throughout the 20th century, this burst of innovation spilled over into the construction of skyscrapers along the Chicago River.
Today it's home to some of the most breathtaking buildings in North America, experience them with a private architecture boat tour Chicago. These monuments of human ingenuity attract millions of tourists every year, with private architecture boat tours being the best way to encounter them.
To highlight the main attractions, we compiled a list of the most exquisite buildings on the Chicago River. Each entry is explained in-depth on our private architecture boat tours Chicago, so prepare to get a glimpse of their rich history!
Merchandise Mart –Against all odds, this massive plot of land evolved into one of Chicago's most impressive landmarks. Formerly a Native American trading post, this strategic position on the Chicago River became home to the Wells Street Station. It's abandonment in 1911 for a better positioned train station set the stage for one of the most daring construction projects of the 20thcentury. In 1927, Marshall Field & Co. unveiled their plans to construct the largest building in the world.
Armed with a bold plan by architect Ernest Graham, the project commenced in 1928. While the amount of manpower used was staggering, the sheer volume of materials was even more impressive. Utilizing 5,700 workers, 29 million bricks, 4 million yards of concrete and 60,000 tons of steel, the project was completed in a year and a half. Boasting an impressive 7.5 miles of corridors and 4,000,000 square feet of floor space, the Merchandise Mart covers two entire square blocks. It was so large that it had its own ZIP code (60654) until 2008.
On top of sealing Chicago's reputation as an innovator in construction, it also helped the Kennedy family rise to power. In 1945, the Kennedy family purchased the Merchandise Mart for $13 million. This was a steal since the building cost over $26 million to construct. Over the years, revenues generated by this shrewd investment were used to fund JFK's political campaign. This behemoth building helped nominate one of our most revered U.S. presidents, which is why it can't be ignored by any American! Come aboard our private architecture boat tour Chicago to experience Art on the Mart!
Aqua –This 82-story skyscraper we visit during a private architecture boat tour Chicago adds a delightfully modern touch to Chicago's classic skyline. Designed by Studio Gang Architects and costing $300 million, this is the biggest project ever awarded to an American firm that was led by a woman. When it was completed in 2009, it was given the Emporis Skyscraper Award for skyscraper of the year. What makes this design so memorable is its uneven balconies that stretch up to 12 feet. On top of giving the exterior a fluid impression, these balconies provide breathtaking views of the Chicago River.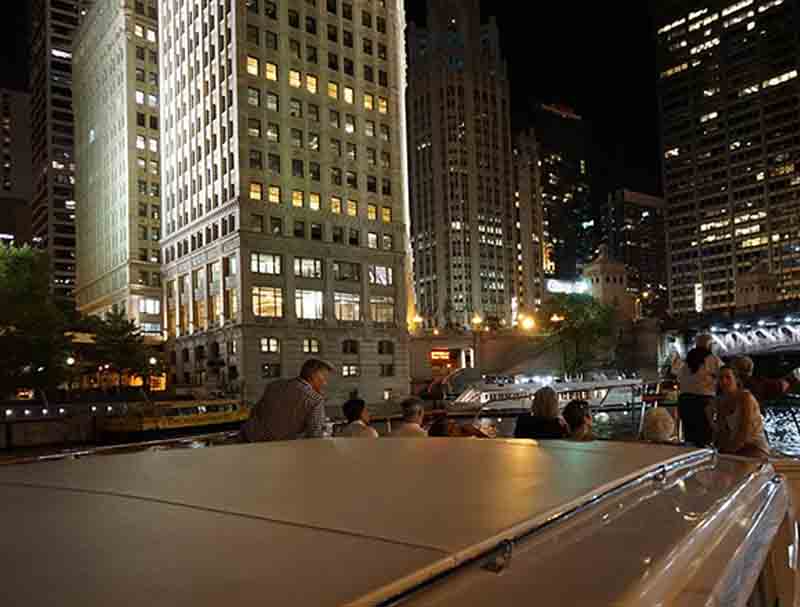 Marina City –This city within a city was created in 1963 when two of the biggest construction companies at the time teamed up. Consisting of two 65-story towers, a 10-story office building and a saddle-shaped auditorium, this building complex sparked an American residential renaissance. It was the first post-war urban high-rise residential complex in America. Its innovative use of mixed residential and office spaces with a parking base became the primary model for America's urban development. Despite originally being created to stop white flight; it unintentionally became the blueprint for inner-cities around the world. Seeing the buildings up close during a private architecture boat tour Chicago is simply the best way to experience its revolution.
333 West Wacker Drive –This 36-floor high-rise office building steals the show with its gorgeous reflection of the Chicago River. Designed by Kohn Pederson Fox Associates, it marks the division between North and West Whacker Drive. Ever since it was unveiled in 1983, it has been adored by locals and tourists alike. We love pointing out its luminous presence during private architecture boat tours Chicago. After being featured in Ferris Bueller's Day Off, it was eventually named "Favorite Building" by Chicago Tribune readers in 1995. This marvelous project has been selected as one of the Illinois 200 Great Places, so don't miss it on your next charter!