Private Dining, Shore-to-Shore Charters, and Horseshoe Casino Excursions
Reinventing the classic intimate Chicago dinner cruise experience.
Our Chicago Private Dinner cruise yacht brought the intimate luxury yacht dinner cruise business back to the Chicago in 2011 and continues to be a popular choice for an exceptional dining experience, which have even included Lake Crossings and a fun runs to Horseshoe Casino.
With our Private Chicago dinner cruise we continue to set the standard for private dinner cruises in Chicago for two or more, both in terms of excellence and experience, creating many enduring memories in the process. Enjoy one of our decadent sunset dinner cruises along Chicago's lakefront or a private dinner cruise on the mighty Chicago River.
When it comes to making someone feel exceptionally special, Chicago does have some nice restaurants and hotels. However, Adeline's Sea Moose 68′ feet of privacy, her pampering crew, cozy overnight accommodations and the spectacular views of Chicago skyline offers an extraordinary dining experience worthy of your very special someone.
Adeline's Sea Moose can comfortably host 12 guests for seated dining and 45 guests for butler style hors d'oeuvres.
We partner with some of Chicago's top restaurants and bakeries to deliver 5 star dining experience out on the water!
Work with a private Chef to create a personalized 4 course meal for you and your guests.
Choose your bar theme and our professionally trained bartender and wait staff will create a custom cocktail menu.
Chicago Private Yacht Rentals and the crew of Adeline's Sea Moose has had the pleasure to provide the type privacy, pampering and unforgettable experience you would expect from chartering a private luxury yacht for intimate moments, venturing to a distance shore and back or feeling lucky no matter what happens at the casino.
Adeline's professional, friendly crew are all about the pampering.
First-Rate First Mate
Catering and Services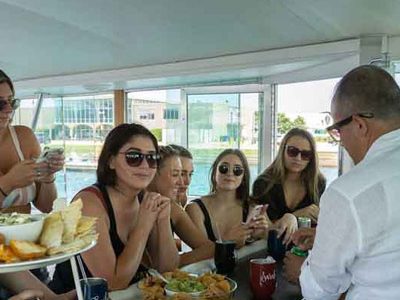 • Customization Catering
• Decorations and Decorating
• Beverage and Alcohol Service
• Bartender and Serving Staff
• Photography and Drone Video
At 68 feet, Adeline's Sea Moose is a 45 passenger Coast Guard certified yacht. She offers four well-appointed decks with an assortment of amenities and comfortable accommodations.
Top-deck, the flybridge, has comfy bench seating, a low profile table, and 360 unobstructed viewing.
Main-deck has a cozy salon area and wet bar with padded stool seating and refrigeration at her stern. At the bow, there is an expansive padded bench and sundeck with additional gathering space.
Mid-deck has a modern galley, breakfast nook, dining and entertainment area.
Bottom-deck has three staterooms and two heads.
Yacht wide sound system with CD player & I-pod, 3 flat-screen TVs with DVD players, dockside cable & Wi-FI and a swim platform.
We're At Your Service
Morning, Afternoon, or Evening, Chicago Provides The Spectacular Backdrop, and Adeline's Sea Moose and Her Crew Delivers A Priceless Private Pampered Chicago Yachting Experience.