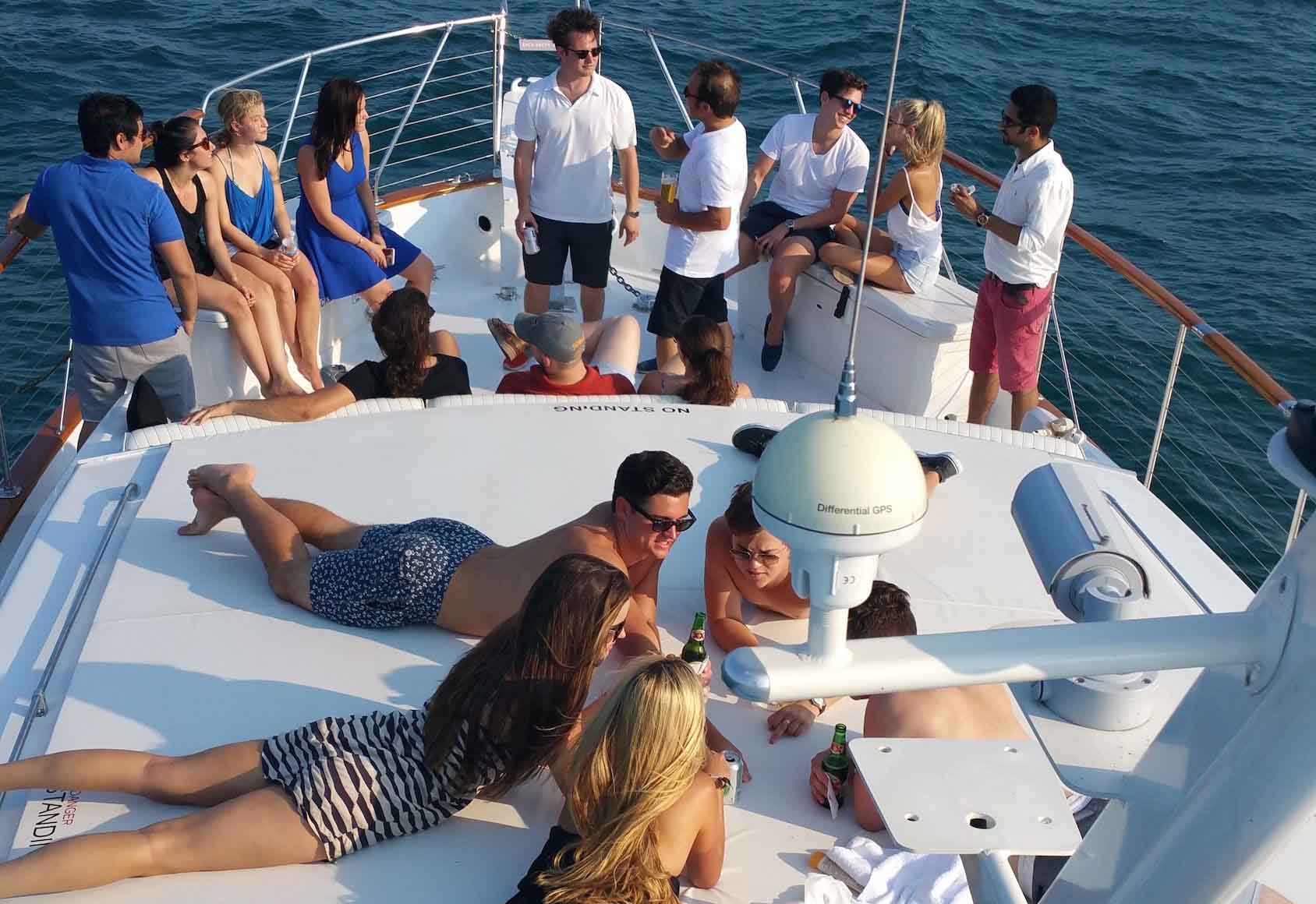 The #1 Booze Cruise in Chicago is on our private yacht
Booze Cruise Chicago Signature Cocktails
Whether it's cold and rainy or sunny and balmy in the Windy City, Adeline's Sea Moose invites you aboard our multi-level luxury yacht for a booze cruise complete with a premium top shelf open bar, craft beer, signature cocktails, and of course, stellar 360 views.
Our knowledgeable and friendly staff are ready to whip up anything on or off the bar menu, so if your jonesing for a dirty martini or an Old Fashioned made with your whiskey of choice, we've got you covered.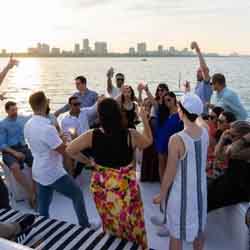 Perfect Holidays You May Not Have Known for Booze Cruises Chicago
Chicago is one of the best cities to hunker down and enjoy some cold, boozy drinks with friends aboard one of our private Chicago Yachts or boat rentals,
but when it's a holiday, you might be pining for something more special than your local watering hole. Break away from the concrete jungle of Downtown Chicago with a fun and relaxing booze cruise on a yacht.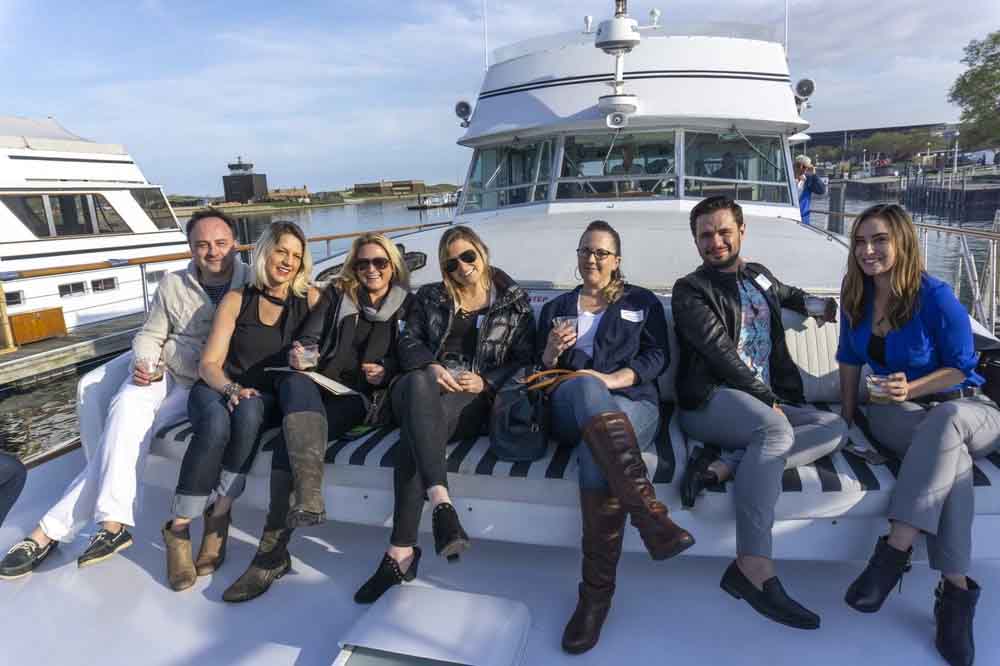 Here are some upcoming boozy holidays to get stoked for:
1. National Beer Day (April 7)
While this holiday is just a decade old, National Beer Day is the perfect opportunity to get out and expand your curious palette by trying out some flavorful craft beers on our yacht. A couple popular local brews from our bar menu include the hop-forward Baderbrau Lager and complexly flavored Wobble IPA.
2. International Sauvignon Blanc Day (May 6)
Ramp up your knowledge of this versatile and crisp white grape variety of wine with a glass of our Hess Select Sauvignon Blanc, or try one of our other fruity or dry white wines.
3. National Wine Day (May 25)
National Wine Day presents the perfect opportunity to appreciate, taste, and savor wine. We recommend the Estancia Chardonnay, a fruit and oak white from California, or our Hess Select Sauvignon Blanc, a rich, medium to full-bodied white wine.
4. National Chardonnay Day (Thursday before Memorial Day)
Get a start to Memorial Day and discuss the virtues of this beloved grape varietal while sipping on our Estancia Chardonnay on National Chardonnay Day.
5. National Cosmopolitan Day (May 7)
This holiday dates back to 1987 and celebrates the refreshing and iconic cocktail made from triple sec, lime juice, cranberry juice, and vodka—the Cosmopolitan.
6. National Martini Day (June 18)
Classic martinis began with simple ingredients like gin, olives, and wine, but have since broadened to include an exciting variety of flavors. Get emboldened on National Martini Day and try some new recipes out!
7. National Mai Tai Day (June 30)
Summer is the perfect time to celebrate this tropical drink that was first concocted back in 1944 by Trader Vic in Tahiti, where tasters asserted it was "Mai Tai-Roa Aé", meaning "very good", or "the best".
8. National Pina Colada Day (July 10)
If you're in the mood for something sweet, National Pina Colada Day might be the drinking holiday for you. This rum-based, frozen cocktail contains cream of coconut and pineapple juice.
9. National Mojito Day (July 11)
You don't have to go to Cuba to enjoy Ernest Hemingway's favorite drink. Hop aboard our National Mojito Day booze cruise for this refreshing and ever-popular Cuban highball.
10. National Daiquiri Day (July 19)
Fill your glass with this sweet and fruity, rum-based frozen cocktail and celebrate the Daiquiri—a family of delicious cocktails whose key ingredients are sugar, lime juice, and rum.
11. International Rosé Day (August 18)
Rosé is a wine variety that dates all the way back to sixth century BC. Celebrate this oldest known type of wine aboard Adeline's Sea Moose with a glass of our Marqués de Caceres Rosé
and make a toast!
Bottom Line
No matter the occasion, be it a Memorial Day booze cruise on a private yacht or even a spooky Halloween booze cruise in Chicago on a smaller boat charter, grab some friends and delight in your favorite boozy drink aboard our charter
yacht. Our knowledgeable staff can concoct any drink for any occasion!